US
Donald Trump has visited Capitol Hill in Washington to pay his respects to former president George HW Bush.
He and wife Melania made a brief stop to salute the 41st president, whose body was brought to the capital in a flag-draped casket on Monday after being sent from Texas with a 21-gun salute.
Americans have gathered to pay their respects ahead of his funeral on Wednesday.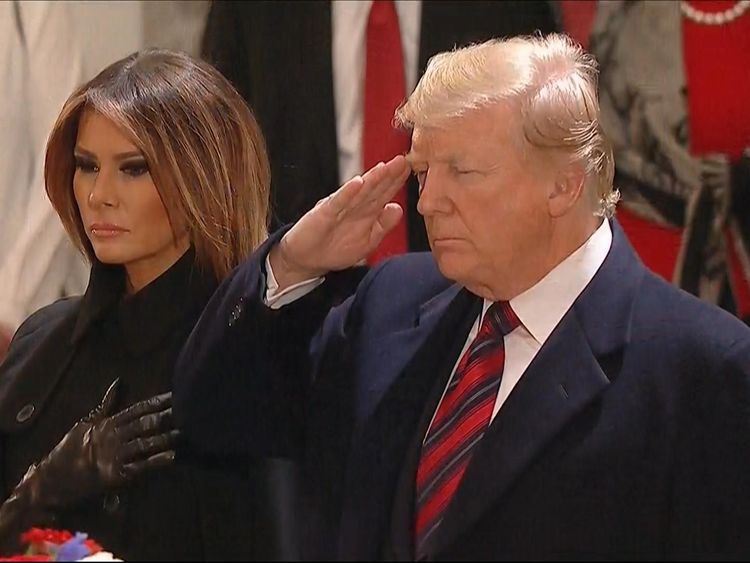 Dignitaries have eulogised the president as a figure who was unfailingly loyal to his country, and members of the military carried his casket from a hearse into the rotunda.
"Through the Cold war and the Soviet Union's collapse, he kept us on course. When the rule of law needed defending in the Persian Gulf, he kept us on course," Senate majority leader Mitch McConnell said.
"He kept us flying high and challenged us to fly higher still. And he did it with modesty and kindness that would have been surprising in someone one tenth as tough and accomplished as he was."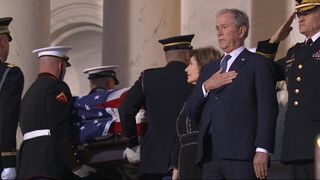 The 41st president of the United States, Mr Bush is best known for leading the US into the 1991 Gulf War, a military operation to expel Iraqi forces from Kuwait.
He became a multi-millionaire in the oil industry, and was a decorated World War II fighter pilot and a former head of the CIA before entering the White House in 1988.
He died at his home in Houston on Friday at the age of 94 – the longest living president in US history.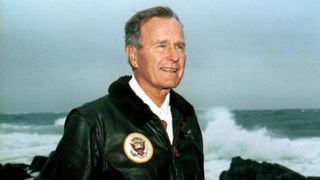 Mr Bush's son, the younger former president George Bush, stood with his hand on his heart as his father's casket was carried up the steps of Capitol, having travelled on the flight from Houston with his wife Laura and other family members.
Thousands of mourners had flocked to Bush's presidential library on the campus of Texas A&M university, where they paid respects at a candlelit vigil at a nearby pond or contributing to growing flower memorials in Houston.
His ceremony, overseen by reverend Patrick J Conroy, was attended by leading Republicans such as House Speaker Paul Ryan, who spoke in praise of Mr Bush.
"Throughout his life of service, President Bush personified grace," he said.