SUDAN
African leaders meeting in Cairo on Tuesday agreed to give Sudan's ruling military council three months to implement democratic reforms, amid pressure for a quick handover of power to civilians.
The decision extends a 15-day deadline set by the African Union last week for Sudan's Transitional Military Council (TMC) to hand over power to civilians or to be suspended from the grouping. The TMC took over after President Omar al-Bashir was ousted on April 11.
Any suspension of Sudan's AU membership could affect the TMC's efforts to win international recognition as the country's legitimate rulers during an interim period of up to two years, and thus delay any aid to the country that has been trying to cope with a dire economic crisis.
The TMC has been under pressure from demonstrators to hand power rapidly to civilians since the military ousted Bashir following months of protests against his 30 years in office.
Speaking at the end of a summit attended by several African heads of state, Sisi said that the meeting agreed on the need to deal with the situation in Sudan by working to "quickly restore the constitutional system through a political democratic process led and managed by the Sudanese themselves".
Sisi, who holds the rotating African Union presidency, said that the African Union Commission Chairman Moussa Faki Mahamat had briefed the meeting on his recent talks in Khartoum.
"We agreed on the need to give more time to Sudanese authorities and Sudanese parties to implement these measures," Sisi told the meeting.
A Sudanese and a Western diplomat head had earlier said that the TMC wanted a period of three to six months to continue its discussions with protesters and opposition groups to hammer out an agreement on how to run the transitional period.
The TMC has resisted pressure to hand power to civilians, but has said it was ready to accept a civilian government of technocrats to run the country during an interim period of up to two years that would prepare for a presidential election.
But protesters say the proposal would leave ultimate power in the hands of the military, demanding that the ruling council be staffed by civilians with military representation.
April 18, 2019: US backs calls for civilian-led transition
The United States has reiterated its call for the military to handover power to a civilian-led transition body saying they supported what the Sudanese people wanted.
Its latest statement on the post-Bashir crisis was issued by the Department of State on Thursday – the same day that a massive protest rocked the capital, Khartoum.
In the course of this week, the African Union has given a stern warning to the Transitional Military Council over possible expulsion from the continental bloc.
Ousted president Omar al-Bashir has been transferred to a maximum security prison in Khartoum. Two of his brothers have also been detained according to the military as part of efforts to "uproot symbols of the regime."
Full statement by the United States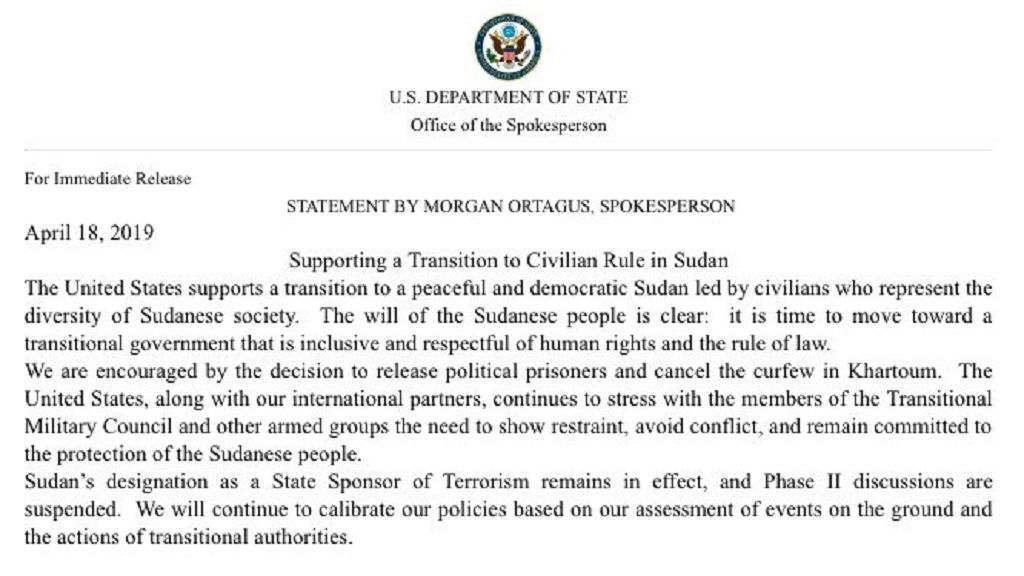 April 17, 2019: Bashir arrives in Khartoum prison
Deposed president Omar al-Bashir has been transferred from detention into a maximum security jail, Kobar, located in the capital, Khartoum.
Our corespondent reports that he is being kept in solitary confinement under heavy security. A family relation confirmed the development.
It is the most significant news on the former leader since he was ousted last week by the military. The military on Monday dismissed reports that he could be handed over to the International Criminal Court, ICC.
Meanwhile, the Transitional Military Council, TMC, continues to engage protest leaders on a way forward in post-Bashir Sudan. The pressure to transfer power to a civilian government meanwhile continues.
The African Union after an April 15 expulsion threat by its Peace and Security Council reiterated its position when its head Moussa Faki Mahamat met with a TMC delegation yesterday, April 16.
Leader of the TMC, Abdel Fattah Burhan on the same day met with special envoys from the United Arab Emirates and Saudi Arabia – the two Gulf nations have pledged support for the people of Sudan.
"Chairman of the Transitional Military Council, praised the distinguished relations between the Sudan, Saudi Arabia and the United Arab Emirates and the eternal ties that bind their peoples," state-run SUNA agency said on Twitter.
They added that a message of support had also come from Egypt, whose president Abdel Fattah Al-Sisi, currently chairman of the African Union, AU, has said he was ready to visit Sudan in the coming days.
April 14, 2019: Military begs for international support
Sudan's Foreign Ministry is appealing for international support to back the military rulers who took power after ousting long-serving president Omar al-Bashir.
"The Ministry of Foreign Affairs is looking forward to the international community to understand the situation and to support the transitional military council … in order to achieve the Sudanese goal of democratic transition," its statement said.
The military said last week that it was due to operate a two-year- transition after which it would hand over power to elected representatives.
Bashir's last Defense Minister was sworn in as leader of the military transition council but in less that 48-hours Awad ibn Auf resigned his position giving way to a new leader in Abdelfattah Burhan Abdelrahman, a former inspector general of the army.
Protesters meanwhile continue to pile pressure for an immediate return to civilian rule. A former intelligence chief also announced his resignation yesterday in what is seen as part of protester demands.
April 11, 2019: Bashir arrested, military moves to rein in protesters
After three decades in charge, Sudanese president Omar al-Bashir has been forced out of office after months of unrelenting protests. The move was orchestrated by the military.
Reports indicate that the former president is currently detained and being held in a safe place. The military have announced a raft of measures to rein in protesters.
The protesters despite celebrating the fall of Bashir which was the main plank of their movement which started in December 2019 have rejected what they say is a military takeover.
Who took power? The Supreme Military Council.
What is the status of Omar al-Bashir? Arrested, being kept in a safe place.
The 2005 consitution has been suspended along will all its appointees – president, parliament, cabinet etc.
Current law: A three-month state of emergency.
Political transition period: Slated to last 2 years.
Who made announcements? Defense Minister.
Other measures: All border crossings closed and airspace closed for 24-hours.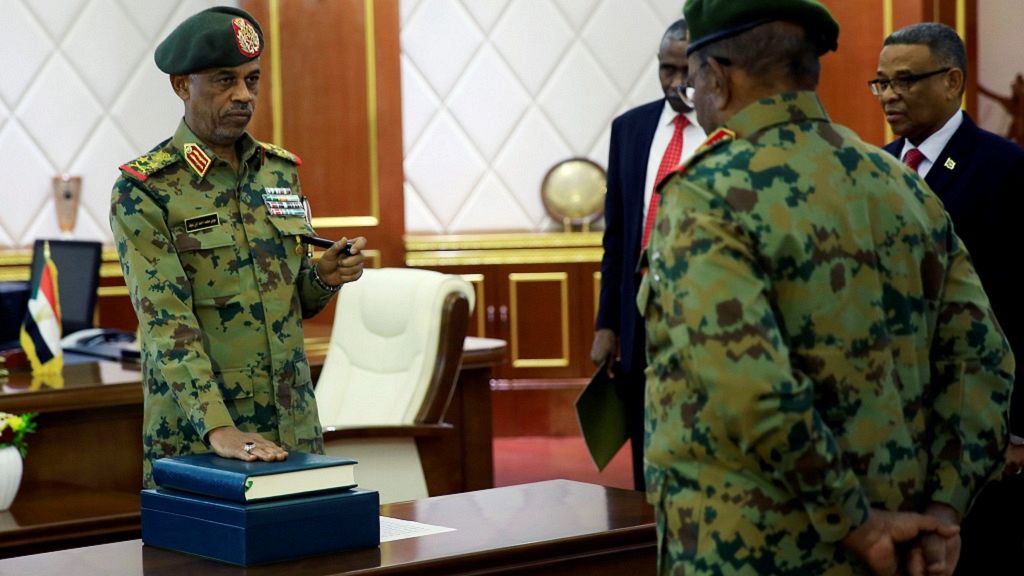 Defence Minister Awad Mohamed Ahmed Ibn Auf (L), an ex-military intelligence chief is sworn in as first vice president in front of Sudan's President Omar al-Bashir during a swearing in ceremony of new officials after Bashir dissolved the central and state governments in Khartoum, Sudan February 24, 2019.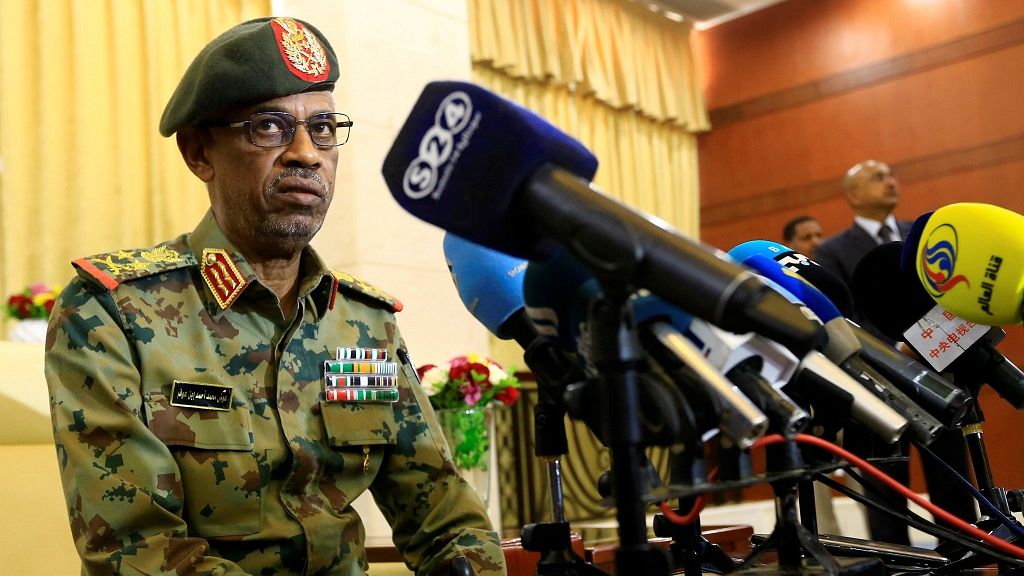 Defence Minister Awad Mohamed Ahmed Ibn Auf, an ex-military intelligence chief talks to the media after being sworn in as first vice president during a swearing in ceremony of new officials after Sudan's President Omar al-Bashir dissolved the central and state governments in Khartoum, Sudan February 24, 2019.
Photos: Celebrating the end of an era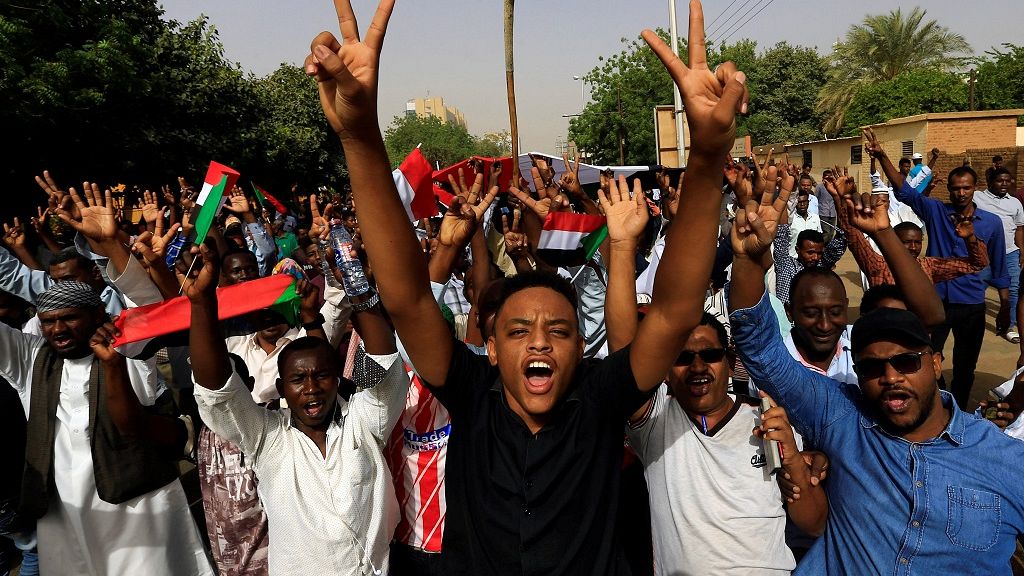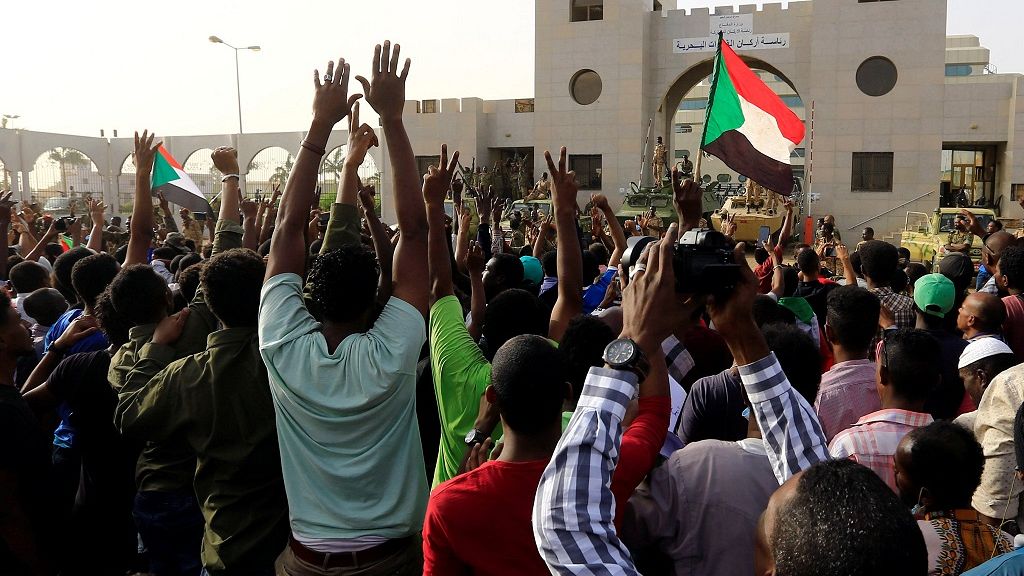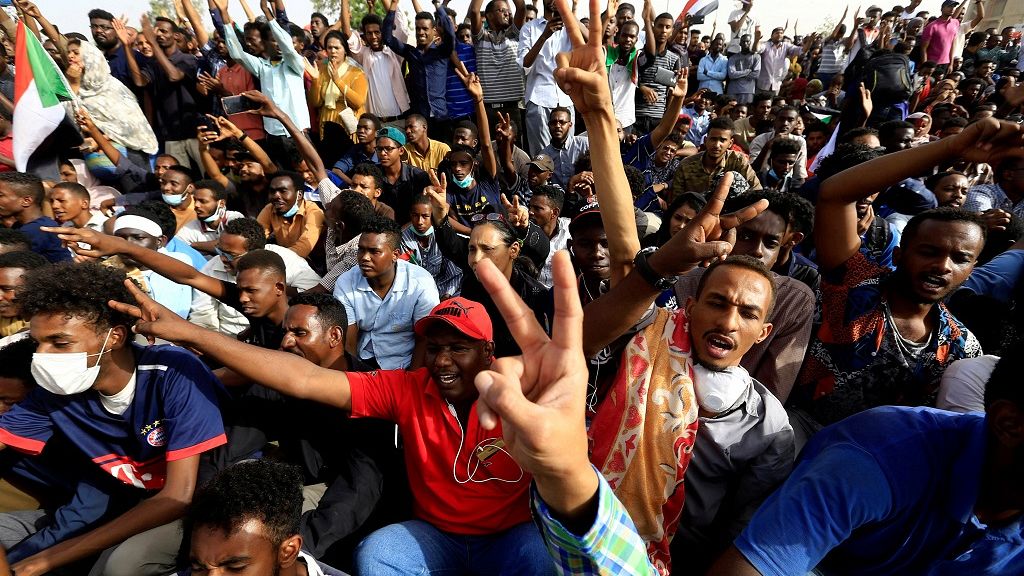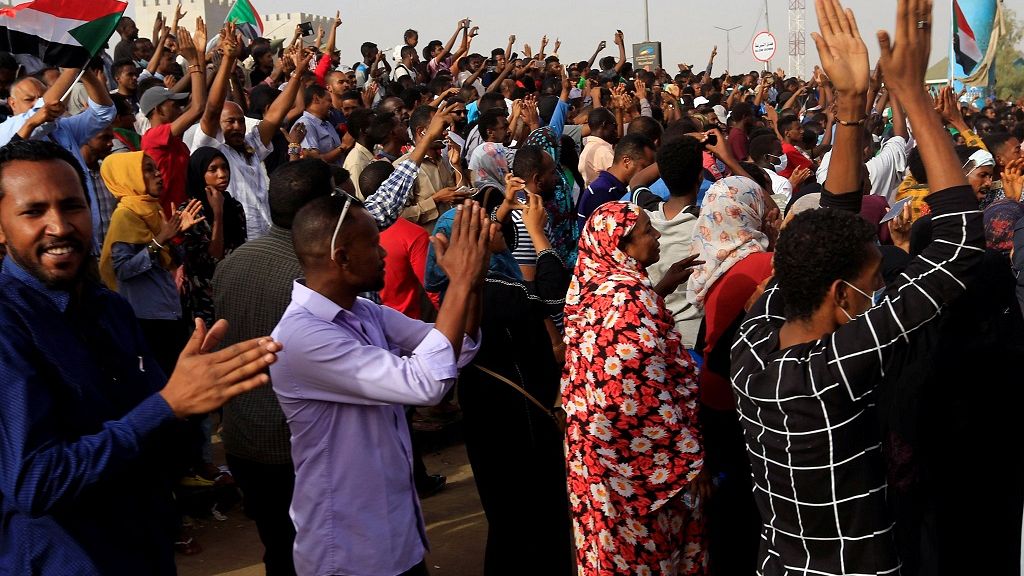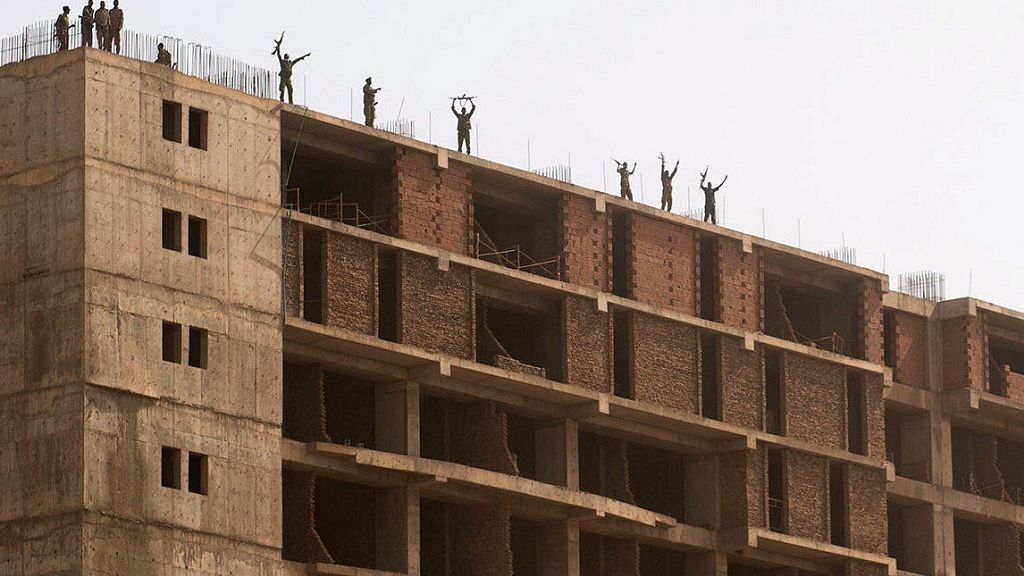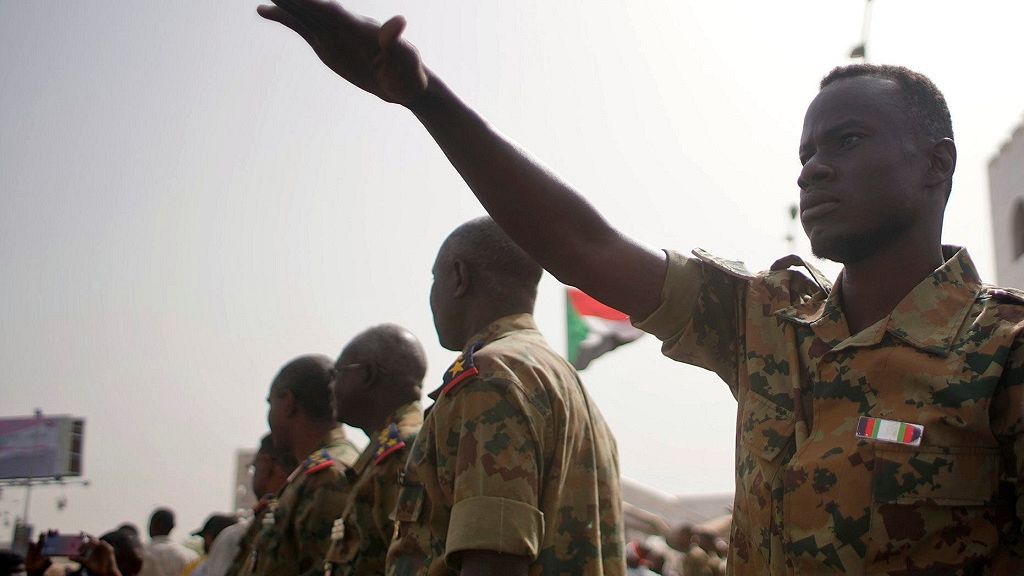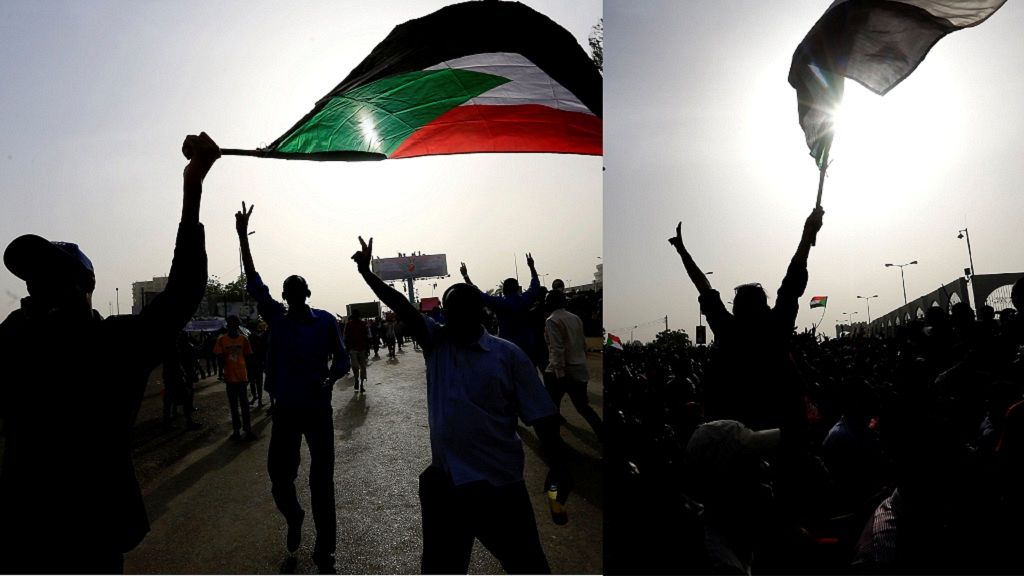 April 10, 2019: Defiant crowds continue sit-in, Bashir meets National Dialogue body
Sudan state TV on Wednesday (April 10) aired footage of President Omar al-Bashir chairing a meeting of the country's Supreme Commission for National Dialogue as anti-government protests calling for his resignation continued. Sudanese TV reported the meeting took place on Tuesday (April 9).
The commission thanked Bashir's government and the national security services for their work in handling the protests in a statement released following the meeting, Sudanese TV reported.
Sudan's opposition party said on Tuesday around 20 people were killed and dozens wounded in dawn attacks on a sit-in outside Sudan's defence ministry by protesters calling for Bashir to step down.
Sudan's National Intelligence and Security Service tried twice to disperse the protesters early on Tuesday, breaking into the area using pickup trucks, witnesses said.
Since December 19, Sudan has been rocked by persistent protests sparked by the government's attempt to raise the price of bread, and an economic crisis that has included fuel and cash shortages.
April 8, 2019: Pressure mounts on Al-Bashir
Soldiers came to the rescue of protesters in Khartoum on Monday when a section of the security forces fired tear gas to break up a three-day rolling sit-in by protesters.
Starting Saturday (April 6) thousands of protesters have camped outside an area in the capital housing the army headquarters and close to the presidential palace.
They are demanding that the army joins their call to force embattled president Omar Al-Bashir out of office. After what was a failed attempt to disperse the crowd, they are currently surrounded at the premises, reports said on late Monday.
The interior ministry confirmed that six people died in Khartoum, during protests over the weekend. Over 50 others were injured and almost 2,500 demonstrators were arrested.
April 2019: Protesters close-in on Bashir's residence
Thousands of protesters held a sit-in outside Sudanese President Omar al-Bashir's residence in central Khartoum on Sunday, having camped there overnight following the biggest demonstration in months of protests against his 30-year rule, witnesses said.
At least one person died on Saturday during "rioting" in Omdurman, Khartoum's twin city, state news agency SUNA said, without giving details on the cause of death.
Sudan has seen months of mostly small but sustained protests against Bashir's rule in which dozens of demonstrators have been killed. Security forces have used tear gas, stun grenades and live ammunition to disperse protests, witnesses have said.
Bashir has refused to step down, saying that his opponents need to seek power through the ballot box.
Since the sit-in began on Saturday, security forces tried several times to clear the protesters from the compound's vicinity using tear gas, including on Sunday morning, but thousands remained.
Apparently emboldened by the success of similar but much larger protests in Algeria which forced ailing President Abdelaziz Bouteflika to step down last week, Sudanese activists called for Saturday's protests to mark the anniversary of the 1985 military coup that overthrew autocratic president Jaafar Nimeiri following mass protests against his rule.
The protesters urged the military to side with them once more in their bid to push Bashir out of power.
Apart from Bashir's residence, the compound, the most heavily-guarded in Sudan, also houses the Defence Ministry and the headquarters of the powerful National Intelligence and Security Service.
March 2019: Summary of Sudan protest issues – details follow
March 25: Protesters jailed, journalists march
March 21: Bashir bans hoarding of cash
March 21: Bashir reduces jail term for violating state of emergency
March 17: Activists outline list of media repression
March 14: Bashir hints of dialogue?
March 13: Civil disobedience observed, Activists outline diaspora rallies in U.S., Europe
March 12: Whipping sentence dismissed, March 13 rally gathers steam
March 11: State of emergency halved
March 9: Activists cleanup, announce March 10 rallies
March 8: Detained women on hunger strike – SPA
March 7: Women march, court orders release of protesters
March 6: SPA calls tribute rally for women
March 6: Nationwide strike 'resounding success' – Organizers
March 5: Nationwide strike called for today
March 3: Main opposition chief urges Bashir to quit
March 2: Opposition leader tells Bashir to leave
March 1: EU tasks govt to arrest excesses under martial law
March 25: Journalists march demanding press freedom
Six protesters arrested in the city of Omdurman have been sentenced to six-months by a Sudanese court, our correspondent reports.
The sentence was handed down by an emergency court on Monday. "The six were accused of causing disturbances," Police Spokesman General Hashim Abdelrahim told Sky News Africa.
The report added that each of the convicts were also fined 1,500 Sudanese pounds ($31). The country is under a state of emergency aimed at quelling anti-government protests that kicked off late last year.
Meanwhile, dozens of journalists marched in Khartoum on Monday to demand an end to a crackdown on press freedom amidst the most sustained challenge to Sudanese President Omar al-Bashir since he took power in a 1989 coup.
Protesters have been taking to the streets frequently across Sudan since Dec. 19. The protests were initially triggered by price rises and cash shortages but evolved into demonstrations against Bashir and his National Congress Party.
Monday's protesters carried a large banner that read "Free press or no press" as they walked down a main street in the Sudanese capital. They chanted "journalism is the voice of the people" and "the revolution is the choice of the people".
Since the wave of demonstrations began, 90 journalists have been detained, according to the Sudanese Journalists' Network, an anti-government group of journalists that organised Monday's protest. Most have since been released, the group said.
The Committee to Protect Journalists (CPJ) says the number of arrests is unprecedented, but that it is impossible to give an exact figure because journalists have been arrested then freed, with this happening to some more than once.
The CPJ has also said that Sudanese authorities have tried to censor news coverage of the protests and that they have blocked access to popular social media platforms.
Othman Mirghani, editor-in-chief of the independent newspaper al-Tayar, and one of Sudan's most prominent journalists, was arrested at his Khartoum office on Feb. 22, the same day Bashir declared a state of emergency, his family said.
He was detained shortly after a televised interview in which he criticized Bashir's declaration of a state of emergency, according to relatives. They said Mirghani remains in custody, but has still not been charged.
The Sudanese information ministry told Sky News Africa that the state of press freedom in Sudan is good.
"Opposition party newspapers are issued in Khartoum and the freedom to demonstrate is guaranteed by the constitution," said Information Minister Hassan Ismail. "There is no political crisis in Sudan, but there is an economic crisis."
He added that his ministry has requested information about the reasons behind Mirghani's arrest and that he will be meeting the director of the National Security and Intelligence Service on Tuesday to discuss Mirghani and other issues.
Bashir last month also dissolved the central government, replaced state governors with security officials, expanded police powers and banned unlicensed public gatherings. That has not deterred protesters from staging regular rallies.
March 21: Bashir reduces jail term for violating state of emergency
Sudan's president, Omar al-Bashir on Thursday reduced the maximum jail term for violating the country's state of emergency from 10 years to six months even as protesters continued staging rallies against his rule.
Bashir had initially announced that any violations to the state of emergency, especially participating in banned rallies, were punishable with a jail term of up to 10 years.
But on Thursday he issued an order that the maximum jail term for such violation would now be up to six months.
Even as Bashir's new orders were announced, crowds of protesters staged rallies in the central town of Al-Obeid and in areas of Khartoum and Omdurman, the twin city of the capital across the Nile, witnesses said.
March 21: Bashir bans hoarding of cash
In a separate order he also appointed the acting chief of his ruling National Congress Party, Ahmed Harun, as a presidential aide.
A statement from the presidency on Thursday also banned hoarding of the Sudanese pound and "speculation" on the currency.
Under the new rules announced by Bashir's office, individuals are not allowed to store more than 1 million Sudanese pounds ($21,000) outside the banking system.
Entities are banned from storing more than 5 million Sudanese pounds and are not allowed to store amounts "that are not commensurate with the scale of (their) activity", the statement said.
Bashir's order, made in an emergency decree, also banned the counterfeiting of any currencies, as well as the possession, transportation or storage of counterfeit currencies and any tools used to produce counterfeit currencies.
It further banned all providers of goods and services from accepting payments via bank cards or cheques.
Any violators of the decree, in addition to punishments in any other breached laws, would face a minimum of six months in prison and a maximum of 10 years, as well as a fine.
March 17: Activists unfazed by media reprieve
The main protester organizers in Sudan uprising, the Sudanese Professionals Association, SPA? said on Sunday that it had noted a reprieve in media operations after banned newspapers were allowed unto the stands.
"In a poorly-directed play, the Sudanese security and intelligence service allowed some newspapers to be released after harsh prevention measures that deprived them from circulation for more than 70 days," SPA said in a tweet.
They listed some of the newspapers as: Al-Maidan, Akhbar al-Watan and Al-Baath. SPA said what was important was for government to release all detained journalists.
They claimed that most of the detained journalists were being subjected to abuse by authorities. They slammed the government further for gagging media personnel – local and foreign.
State actors banned the publications from circulation in January, most of them over their reportage of the uprising. It was around the same time that government banned foreign journalists who were also reporting on the protests.
March 14: Bashir hints of dialogue?
Bashir, facing the most sustained challenge to his rule since he took power in a military coup three decades ago, promised during a swearing-in ceremony for a new cabinet that he would engage in dialogue with the opposition.
"Securing peace and silencing the sound of the rifle is our most important priority for the country and we will communicate with the forces who reject dialogue for the sake of political stability," these are the words of the president according to a presidency statement issued on March 14.
In a cabinet reshuffle on Wednesday, Bashir appointed at least 15 new ministers.
Last month he declared a state of emergency, dissolved the central government, replaced state governors with security officials, expanded police powers and banned unlicensed public gatherings.
That has not stopped the protesters, who have held several demonstrations since the new measures came into effect.
As part of the emergency measures, courts have been trying protesters in evening sessions, sparking more rallies outside court buildings.
March 13: Anti-govt protests in diaspora
Even as protests and acts of defiance continue at home, the pressure on government is set to be applied outside the shores of the country according to lead activists.
The Sudanese Professionals Association, SPA, disclosed on social media that plans were afoot for protests in the diaspora. Among others across cities in the United States and Europe – Germany and the United Kingdom.
The said protests are to kick off on March 14 till 17. Some of the targeted cities include:
Thursday, March 14, 2019
Activities of Sudanese expatriates abroad in New York-USA at the United Nations Headquarters: A demonstration condemning the emergency laws and violations against Sudanese women.
Saturday, March 16, 2019
Washington, USA: To celebrate International Women's Day in faith in freedom, change and democracy.
Alexandria VA, Philadelphia-USA at Sudanese Community House | Poetry evening, loyalty of the martyrs of freedom and prisoners of conscience.
Dusseldorf-Germany, Protest in support of the Sudanese revolution
London-England at the Trafalgar Square | Demonstration in support of the Sudanese revolution
Sunday, March 17, 2019
Washington, USA in front of the White House | Demonstration in support of the Sudanese Revolution
The National Assembly For Wales, Cardiff Bay, Cardiff, UK.
March 13: Civil disobedience call massively heeded
SPA, the organizers posted photos of social shutdown as called for Wednesday, March 13. They are yet to announce the next line of action.
Some actions slated under the civil disobedience include the following:
Refraining from working in government offices and institutions.
Refraining from paying statutory dues such as taxes and utility bills.
Working to achieve a shutdown of transport routes – road, port, railways.
Refraining from dealing with governmental interests and non-cooperation government agents.
Boycott goods and services produced or provided by productive or service enterprises wholly or partially owned by the state.
March 12: Flogging sentence overturned, March 13 rally gathers steam
Nine women arrested for protesting have been released by a court on Tuesday.
The group were arrested last Thursday during protests before they staged a hunger strike on March 8, coinciding with International Women's Day.
The appeals court ordered their release despite being jailed one month and 20 lashes each.
The SPA has announced that all is set for a March 13 civil disobedience as part of the wider protest plan demanding the resignation of president Omar al-Bashir.
March 11: Parliament splits emergency rule in two
Sudan's parliament voted on Monday to shorten from one year to six months a state of emergency declared by President Omar al-Bashir last month in response to widespread protests.
Parliament can, however, renew the measure.
Bashir declared the nationwide state of emergency, the first since 1999, on Feb. 22 to try to quell demonstrations that have posed the most serious challenge to his three-decade rule.
Parliament's deputy speaker Ahmed Attijani said some lawmakers objected to the state of emergency because of its implications for freedoms, particularly given Sudan is due to hold a presidential election next year.